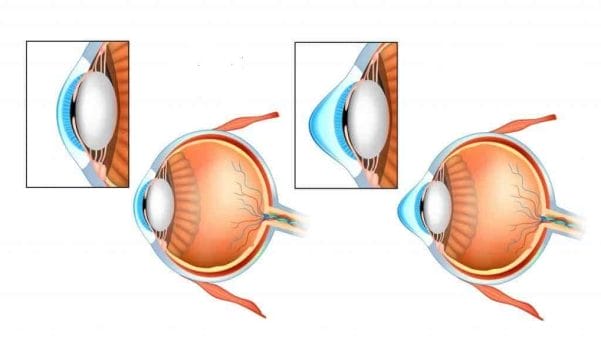 Keratoconus is a degenerative disease of the cornea that occurs because of disturbances in the organization of collagen. The cause of the disease is not yet fully understood. Genetic, physical and biochemical factors are thought to play a role in its development. The disease is characterized by progressive deformation and texture of the cornea, the appearance and increase of myopia and astigmatism, and a decrease in visual acuity. Keratoconus usually begins at the end of puberty and is most often diagnosed in adolescence, but cases of keratoconus and childhood are also reported in the literature. The diagnosis of keratoconus is based on ophthalmic examination and corneal topography. Corneal topography is a non-contact and painless diagnostic method that allows us to analyze the cornea in detail.
Treatment
So far, the most successful method of treating keratoconus to date is corneal cross-linking corneas. It is performed by liquefying a riboflavin solution is liquefied in the eye, then illuminating the cornea with UVA light.
This process strengthens the cornea and prevents further progression of the disease. In the postoperative period, the patient wears a therapeutic contact lens and liquefies antibiotic and anti-inflammatory drops as recommended by the doctor.
The therapeutic contact lens is usually removed 7 days after surgery. Vision correction with glasses or contact lenses is performed at the earliest 3-4 months after surgery.
Contact us by phone or email and we will respond to you in the shortest possible time.